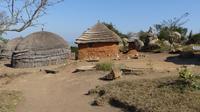 Full-Day Tour to a Rural Village from Manzini more_vert
*$164 AUD Book
close
Enjoy a day in the life of a Swaziland local on this full-day tour to a rural village, from Manzini. Savor a traditional Swazi breakfast and lunch. Get to know the local communities through conversation and by joining in their daily activities. Visit a local classroom (school days only). Explore the mountainside on a guided hike alongside other villagers.
Begin your day with an early morning hotel pick-up. Have breakfast at your hotel, or enjoy a traditional breakfast in Manzini market. Either way, be sure to save room for the Swazi dish, Incwancwa. While relaxing at the market, learn some of the local language, siSwati, similar to Zulu. Try out your new skills while navigating the market.

After breakfast, take an hour to go shopping. The market offers plenty of inexpensive items that won't weigh down your travels. Tourists come for the souvenirs, while locals flock here for bulk items, which they can sell in South Africa. You will find it especially lively on Wednesdays and Thursdays. Head out of town toward kaPhunga village, a one-hour drive from Manzini along a gravel road. Bring an inquisitive, open mind, and take a seat in a Granny's hut to chat about Swazi culture and tradition. Enjoy a lunch of Swazi beans, mealies pap, and barbecue, or let us know ahead of time if you'd like a vegetarian alternative.

If there is time after lunch, you can visit the nearby local school. Try out your language skills with one of the neighboring local families. We encourage all guests to ask questions through your guide. Bear in mind that most local adults speak little or no English, but are happy to try communicating with you. Children tend to speak more English. After your conversation, head out on a gentle guided hike through the hills, where you can meet other villagers and see the village from a new vantage point.
$163.88

query_builder 8 hours
flight_takeoff Manzini
flight_land Manzini

---

Book

---

Check Dates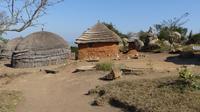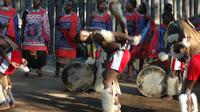 close
This tour will give you the inside-scoop about Swaziland for the duration of your stay.You will have close encounters with wildlife in our very intimate game parks. You will see most animals that you have not seen in other parks, and experience a serene and peaceful environment.
Day One:
Malolotja Nature Reserve on the first day. Here is where you will spend the night, but first you will check in around 11 am and then we go for a nice hiking for about 4 hours, this park is an amazing place to unwind and enjoy the fresh air of the mountains.
Accommodations is in Log Cabins Very stylish and comfortable sleeps around 4 people or more.
Meals- BBQ and Maize Pap and Salads

Day Two:
We leave the park right after breakfast to go on our road trip along the Ngwenya border crossing where we will find the Ngwenya glass- this is a recycling company using glass collected by the community these guys are highly skilled in Glass blowing it would be great to see the artists at work. After the watching the glass blowing you can meander around the gift shops and choose gift for people at home.
Drive down towards the capital city and walk around the city, this is a small place but very pleasant, we will find a place to have coffee before going to visit the local market around or we can just walk around the city to have a good feel of it.
We find a local joint and find some Swazi food

Day Three:
Hotel- 3-4 Star very high standards accommodations
You will be picked up in the morning from your hotel driven along the Valley to go and visit the following attractions: Historical Museum, Swazi Candles and Manzini Market. The historical museum where they also show case about the late king Sobhuza II all his good deeds. Swazi Candles is where the hand made candles are, you will have a look around and see how its made and also visit the stalls and shops in the within the complex. Manzini market is a nice fun market its very small and very laid back. After spending some time in the market we will head off to the village which is about 1hr 20 min easy drive climbing up the windy roads. When we get home we will have some light lunch and sit down in the hut and have a discussion about the Swaziland culture also looking at non Swazi culture.
Village accommodation- Very Simple and comfortable traditional accommodation that you will be staying during this night.
Having lunch in the Manzini market- Simple chicken and rice stew we eat what the locals eat.
Dinner in the evening
Maize Pap, beans, vegetables, chicken BBQ
Day Four: Leaving after breakfast to go to the Hlane Nature Reserve
The Last day will be only Just the Day tour in the Hlane National reserve.
Game Drive at 11 am for 2 hours and also Walking Safari for 1:30 hr
Have a lunch after the Game Drive- Salads, Meat, Maize pap fruits and water
$859.86

query_builder 4 days
flight_takeoff Manzini
flight_land Manzini

---

Book

---

Check Dates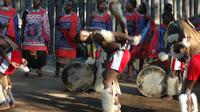 ---
(*) All prices are approximations due to currency fluctuations.