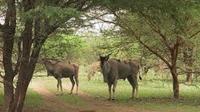 Half-Day Somone Lagoon and Bandia Park Safari from Dakar more_vert
*$300 AUD Book
close
Bandia park reserve is one of the major attractions in Senegal for tourists staying in Dakar or nearby area. It is a conservation park that helps protect some African wildlife like giraffes, rhinos, a variety of antelopes, buffaloes, monkeys, crocodiles, tortoises and more. This tour will give you a chance to watch closely the wildlife in an eco-friendly nature. Also, you will enjoy a wonderful boat ride in Somone lagoon - another eco-park  providing a natural habitat for birds in a lush mangrove.
Your tour guide will meet you at your Dakar hotel at 8am before driving you towards Somone lagoon located in the south of Dakar (approx 75 km from Dakar). Depending on road traffic you will arrive around 9:30 am to embark on a local boat for a 1 hour ride and enjoy the beautiful scenery of mangroves dotted with birds.

Around 10am, you will proceed to Bandia park, which is very close to Somone lagoon (approx 20 min drive). You will then change vehicle and get in a pick up jeep for a 1.5 hour game drive in this reserve that covers 1000 hectares, where you will spot African wildlife in their natural habitat - such as giraffes ,buffaloes, rhinos, a variety of antelopes, zebras, monkeys, crocodiles, tortoises and more. Lunch will be served around 12:30 am at the Bandia park restaurant (included) 

Around 2pm, you will drive back to Dakar and arrive at around 3:30 pm at your hotel in Dakar.
$299.75

gradegradegradegradegrade
query_builder 4 hours
flight_takeoff Dakar
flight_land Dakar

---

Book

---

Check Dates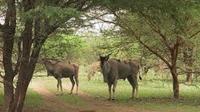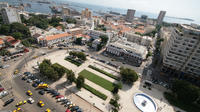 close
Today you will enjoy a Dakar city tour to explore this bustling West Africa city with its colorful local markets.
You will also view the impressive African Monument Renaissance,Soumbedioune Market,art galleries before getting onboard for the Goree island excursion.There you will taste a delicious lunch before starting your visit with  the slave house museum,some colonial sites and have have a stroll in this nice island.At 4:30pm you will take the ferry boat back to Dakar.The boat ride takes just 25mn
Back in Dakar where a courtesy vehicle will drive you back to your location..
Start at 8:am.You will take a guided Dakar city tour as an introduction to the city. During the tour you will view some of Dakar's colorful markets like kermel fruits markets, Sandaga, Soumbedioune art craft and fishing market. The city features beautiful contemporary buildings, combined with historical colonial houses. With a population estimated around three millions Dakar is a vibrant and bustling city with active open-air markets, cafe terraces, and delicious food. It is a shopper's paradise, where exquisite crafts can be found in markets, on the streets, and in stores throughout the city. Among the highlights you will see: The Presidential Palace, Independence square garden, Monument of African renaissance, Old French cathedral, old tren station, the Institut Fondamental d'Afrique Noire Museum (IFAN), which is a cultural and scientific institute in the nations of the former French West Africa. Founded in Dakar, Senegal in 1938, it was headquartered in what is now the building of the IFAN Museum of African Arts. Its charge is to study the language, restore African history, and promote local cultures of the peoples ruled by French colonialism in Africa.
Transfer to Dakar dock around midday and take a Ferry boat to Goree Island. Goree Island is deeply rooted in the history of the slave trade. From the beginning of the sixteenth to the mid-nineteenth century, men, women, and children were gathered on this small piece of land and locked up in cells, before being shipped away to the New World, West Indies and South America. The island was seized by the Portuguese, the Dutch, the French, and the British all of whom participated in the trade. Forts and cannons attest of the island's violent past. Most of the buildings were used as warehouses or slaves' houses, and today many have been turned into museums. You will visit the most famous museum «La Maison des Esclaves, which used to hold up to two hundred captives. You will visit the slave cells and the apartment of the slave dealers upstairs. From the "Door of no Return" countless African caught a last glimpse of their homeland before boarding the slave ships. Another museum to visit is: The historical museum. After our moving and informative tour you will get onbaord the ferry at 4:pm for Dakar and drop you off at your location.
End of the excursion.
$192.69

query_builder Flexible
flight_takeoff Dakar
flight_land Dakar

---

Book

---

Check Dates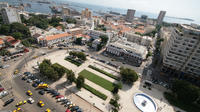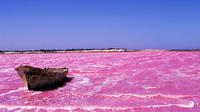 close
Discovering the various species of tortoises in Noflaye conservation park and driving allong stunning sand dunes and amazing beaches will delight you.This 6 or 7-hours excursion will take you to Lac rose a miraculous lake that turns sometime in a pink color.You will have a chance to visit a Fulani tribe get also some valuable information on local culture.Noflaye village with its conservation tortoise park is also a point of interest to visit.
Start at 9:am.Meet and greet with your local guide.Then transfer in a a/c vehicle from Dakar hotels or port to Noflaye village where the park's guide will provide you with some insightful information on tortoise species.Then proceed to the Pink Lake known as Lac Rose that was the finishing line of the rallye Paris-Dakar.
As one of Senegal wonder,this lake gets its pinkish coloration when the sun is straight, and at dusk we can see tints of purple or violet. The pink color of the lake is explained also by the presence of some algae in the water. Besides its strange color, the large salinity (380 g/liter) placed it second after the Dead Sea.You will visit the salt collectors and get on a pick up jeep for a short game drive on the sand dunes following the path of the Rally Paris-Dakar.Stop to visit a Fulani village and drive along the breathtaking beaches of the atlantic ocean back to Lac rose Restaurant for lunch.In the afternoon transfer by car or van to your location.
$221.24

query_builder Flexible
flight_takeoff Dakar
flight_land Dakar

---

Book

---

Check Dates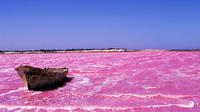 ---
(*) All prices are approximations due to currency fluctuations.