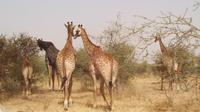 Half-Day Somone Lagoon and Bandia Park Safari from Dakar more_vert
*$283 AUD Book
close
Bandia park reserve is one of the major attractions in Senegal for tourists staying in Dakar or nearby area. It is a conservation park that helps protect some African wildlife like giraffes, rhinos, a variety of antelopes, buffaloes, monkeys, crocodiles, tortoises and more. This tour will give you a chance to watch closely the wildlife in an eco-friendly nature. Also, you will enjoy a wonderful boat ride in Somone lagoon - another eco-park  providing a natural habitat for birds in a lush mangrove.
Your tour guide will meet you at your Dakar hotel at 8am before driving you towards Somone lagoon located in the south of Dakar (approx 75 km from Dakar). Depending on road traffic you will arrive around 9:30 am to embark on a local boat for a 1 hour ride and enjoy the beautiful scenery of mangroves dotted with birds.

Around 10am, you will proceed to Bandia park, which is very close to Somone lagoon (approx 20 min drive). You will then change vehicle and get in a pick up jeep for a 1.5 hour game drive in this reserve that covers 1000 hectares, where you will spot African wildlife in their natural habitat - such as giraffes ,buffaloes, rhinos, a variety of antelopes, zebras, monkeys, crocodiles, tortoises and more. Lunch will be served around 12:30 am at the Bandia park restaurant (included) 

Around 2pm, you will drive back to Dakar and arrive at around 3:30 pm at your hotel in Dakar.
$283.18

gradegradegradegradegradegrade
query_builder Flexible
flight_takeoff Dakar
flight_land Dakar

---

Book

---

Check Dates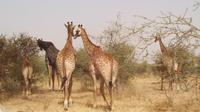 ---
(*) All prices are approximations due to currency fluctuations.