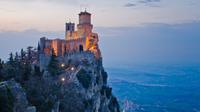 Private Tour of San Marino: UNESCO World Heritage Site more_vert
*$229 AUD Book
close
Discover San Marino, the fifth smallest and arguably the most curious independent country in the world, added to the UNESCO Heritage List in 2008.
Book your preferred departure time and meet your guide at a central location to explore the historical heart of San Marino, the oldest republic in Europe.

Founded in the 4th century, this scenic enclave sits 2,296Â feet (700 meters) above sea level on Mt. Titano in the Central Apennines Mountains, just 12.5Â miles (20 kilometers) from the Romagna Riviera and 62Â miles (100 kilometers) from beautiful Ravenna. Inscribed as a UNESCO World Heritage Site in 2008, the historical center of the republic is a living museum and visited by millions of tourists from across the world.

Set off to walk along the narrow streets and cobbled alleys, passing through squares and around churches. Visit the Piazza della Libertà , the main square, with its Town Hall and Basilica of St. Marino, and head up to the medieval First Tower, rising from the top of the hill.

You will need to climb lots of steps up to the tower, but you'll be rewarded with an extraordinary panoramic view of the Apennines Mountains and the Adriatic Sea from the top.

Despite its small size, San Marino also boasts thousands of stores and boutiques that make shopping here a real pleasure — especially as it's tax-free.

Your tour ends after three hours of exploring.
$228.97

gradegradegradegrade
query_builder 3 hours
flight_takeoff Città di San Marino
flight_land Città di San Marino

---

Book

---

Check Dates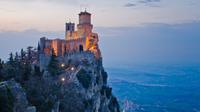 ---
(*) All prices are approximations due to currency fluctuations.