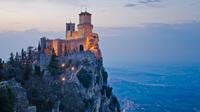 Discovering San Marino: A UNESCO World Heritage Site more_vert
*$200 AUD Book
close
Discover San Marino, the fifth smallest and arguably the most curious independent country in the world, added to the UNESCO Heritage List in 2008.
You will discover the Republic of San Marino, the most ancient European Republic, founded in the 4th century AD.

An enclave situated only 20 km from the Romagna Riviera and 100 km from beautiful Ravenna, the Republic sits 700 meters above sea level on Mount Titano, located on the Central Apennines Mountains.

The historic center of the Republic of San Marino is, in every part, a living monument inscribed as the World Heritage by UNESCO in 2008.

Each year the Republic of San Marino is visited by millions of tourists from all over the world. Throughout the pedestrian island, walking along the narrow streets and alleys, through the squares and around the churches you will enjoy thousand of stores and boutiques... shopping here is a real pleasure, especially when it is tax free!

The tour of the historical centre includes the visit of the main square Piazza della Libertà with its Town Hall, the Basilica of the Saint Patron Marino and the First Tower on the top of the hill. Don't forget that you have to climb a lot of steps to arrive on the top of this hill where an extraordinary panoramic view of the Apennines Mountains and Adriatic sea will be waiting for you
$200.06

query_builder 3 hours
flight_takeoff Città di San Marino
flight_land Città di San Marino

---

Book

---

Check Dates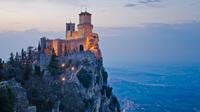 ---
(*) All prices are approximations due to currency fluctuations.