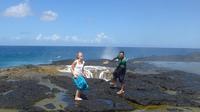 close
This half-day small-group tour covers the south coast of Savaii on the largest and highest Island in Samoa. This tour begins at the colourful Salelologa fresh produce market and quietly continues through the scenic route of the south coast of Savaii. Highlights include a traditional Tapa cloth making stop where one can watch a local artist produce the ancient Tapa cloth artistry and have the opportunity to purchase whilst there. Following this is the world famous Taga Blowholes where thunderous jet streams of sea water shoot out of lava rock fields on the edge of the great ocean. A lunch stop concludes this tour in a hidden gem, the local secret - the cool swimming hole at the base of Afu Aau waterfall nestled in a hidden valley and tropical forest.
Your tour begins when you are collected off the ferry arriving at 9:15am at the Salelologa wharf terminal.
It starts off with a brief visit to the very colourful Salelologa market, and then heads off down the south coast. This drive will take you through several small coastal villages and lush rainforest area. Stops are made at various natural attractions such as the fresh water springs, and Taga sea arches as well as areas of historical significance.

The highlight of this tour is the arrival at the Taga blowholes which are spectacular in sight and force. Natural tubes in lava rock meeting the ocean allow for ocean swells to shoot water in jet streams as high as 30-meters into the air.

Another popular stop is a "Tapa cloth" or "Siapo" making demonstration. Siapo, is an age old traditional art Samoans have used since the beginning of time to decorate and clothe. Siapo is a type of paper made from pounded bark. A Siapo making demonstration is a delightful experience where you will be taken to the fale (house) of some local Samoan women who will run you through the process, from collecting the raw products from the environment surrounding them, to the final piece of fine artwork.

Heading back into Salelologa stops are made at the fresh water springs and eventually our beautiful Afu Aáu falls where a rock pool at the base of a waterfall allows for a swimming break. Lunch will be provided here.
You are ensured that every site you visit is not just a picture opportunity but a chance to learn a little about the island and people. There will be provided ongoing commentary on history, culture and heritage on what you see, and why things are the way they are in Savaii.
$74.96

gradegradegradegradegradegrade
query_builder 5 hours
flight_takeoff Salelologa
flight_land Savai'i

---

Book

---

Check Dates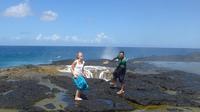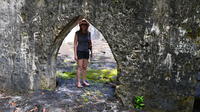 close
This half-day north coast Savaii tour departs from Salelologa on the largest and highest Island in Samoa. This tour has always been popular with families and It takes you through several scattered coastal and beachside villages. Popular stops include the 100 year old Saleaula lava fields and ruins. A popular choice with children has always been swimming with the turtles at the reserve at Sato'alepai and also a local swiftlet population in a lava tube cave "Letui Pe'ape'a cave"
This half-day tour covers the north coast of Savaii and begins when you are picked up from the Salelologa Wharf or your local Salelologa hotel.
Your tour will begin with a visit to the colourful Salelologa Market before heading off northwards. You will have brief stops at various natural attractions and areas of historical significance such as Sapapalii where Christianity was first introduced to Samoa, and local coastal freshwater springs.

The drive northwards is a delightful ride through many neat scattered coastal villages, opportunities for taking photos can be made along the way. The highlight of this tour includes arriving at the Saleaula lava fields which are now 100 years old. Following this you will visit a turtle reserve where the opportunity to get into the water with these amazing creatures and swim with the turtles is provided.
The Letui Pe'ape'a cave is the last stop, which is home to a local swiftlet population which was almost wiped out in the recent 1990's cyclones, these graceful birds have found haven in a fascinating cave which is one of many naturally formed lava tubes.
You will then be taken back to the Salelologa Wharf or your local Salelologa hotel.
$74.96

query_builder 5 hours
flight_takeoff Salelologa
flight_land Savai'i

---

Book

---

Check Dates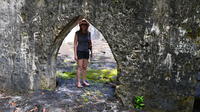 ---
(*) All prices are approximations due to currency fluctuations.