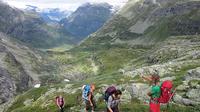 close
Lodalskapa is called "The vestland queen" and are the highest summit on Jostedalsglacier. This is an spectacular and exciting trip, and will set some demands on the one who want to enter the summit.
You pass over 3 glaciers before you start the last climb up against the summit. This trip is a classic in the area and something that everyone should experience, even if "bratta-bakken" with it´s 700 vertical meter in one uphill ara a little bit of a killer.
During the last part up against the summit you have the possibility to secure yourself with ropes if we think the scrambling are a little bit to demanding.

A trip that's got everything, many vertical meters, long stretch, glaciers and easy scrambling and the feeling of standing on the roof of Norway. The trip starts down at the idyllic Bodalssetra, one of the most famous start points for trips on Jostedalsbreen. When you reach the summit you have a 360° view, where you look down towards Jostedal in Sogn, the crevasses in Smattene and the Jostedal glacier that reaches further west.

Included: Harness, helmet, iceaxe, crampons
$204.90

query_builder 12 hours
flight_takeoff Stryn
flight_land Sogn og Fjordane

---

Book

---

Check Dates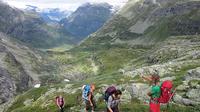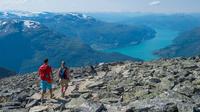 close
Mt Skåla is one of the most famous summits in Norway and more or less a "must" if you have been in this area.

Skåla is mainly known for two things, Skåla-tower or Kloumanstornet that it's actually called. A two-story stone tower which is built on top of the mountain at the end of the 1800s. Also to be Norway's longest uphill, with the annual competition "Skåla opp" – running from bottom to top.

"You´ll find it on the top-10 list of Norways most beautiful summits in the summer issue of the magazine UTE."
This is a trip for those who have done hiking before or practice on a weekly basis. You will meet with the guide at Tjugen camping for a safety briefing for the day and get a good overview of what to expect.

On the first part, we go in the lush and dreamy spruce trees before they thin out and we come up against the tree line. The first part of the trail we follow a wide and old road, some of the parts are renovated by sherpas from Nepal. The guide has good local knowledge and will among other things, tell the whole story of how and why the Skåla Tower was built from scratch. Once up on top we are rewarded with views of The Sunnmøre alps, Jotunheimen and Jostedalsbreen.
$165.49

query_builder 8 hours
flight_takeoff Stryn
flight_land Sogn og Fjordane

---

Book

---

Check Dates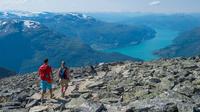 ---
(*) All prices are approximations due to currency fluctuations.