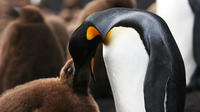 close
Home to the largest King Penguin colony, the Falkland Islands has over 1200 breeding pairs and will introduce you to them!
Volunteer Point is also home to numerous Gentoo and Magellanic penguins and a large variety of other bird life, and also boasts a long white sand-beach on which you can occasionally find a Sea Lion lurking.
This is a semi-private tour for 4 people per vehicle (Land Rover 4x4).
The tour is usually runs for 6 to 6.5-hours, but we can reduce this for passengers on ships that are not in port for long. This time includes two hours of travel in each direction.

The first hour of your journey travels from the pier where you came ashore to the privately owned Johnson's Harbour farm of which Volunteer Point is a part of on gravel roads.

All of our 4x4 Land Rovers drivers, who will be your guides during the journey, are extremely experienced at off-road driving.

During the journey, your driver will answer any questions that you may have and tell you about sites and features on the way.

Upon arriving at Volunteer Point, your driver will advise you of any areas you can't walk in. He will tell you your departure time and provide you with your packed lunch. You are then free to wander and photograph the amazing wildlife this location has to offer.

You are asked to remain 6 meters away from all wildlife at all times to avoid causing disturbances. There are wardens in high visibility clothing positioned around the sand beach that can answer any questions that you may have at the time.

The penguins can be particularly curious by nature and will often approach you if you sit quietly observing them. The area of Volunteer Point itself is fairly flat and easy to walk. The car park is very close to the penguins too.

Upon our return to Stanley, your driver will, if time permits, give you a short tour of the town by pointing out the highlights before dropping you off at the pier where we met you in the morning, or alternatively at a location you have chosen. Museums, gift shops, and pubs are all very close and within easy walking distance of the pier.
$357.34

gradegradegradegradegradegrade
query_builder 6 hours
flight_takeoff Stanley
flight_land East Falkland

---

Book

---

Check Dates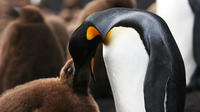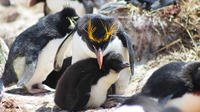 Rockhopper Penguins at Cape Bougainville from Stanley more_vert
*$357 AUD Book
close
Visit the charming Rockhopper Penguins at Cape Bougainville.
See these little penguins hopping up the cliff face and raising their chicks surrounded by nesting King Cormorants.
With Southern Sea Lions and Macaroni Penguins also regularly visiting Cape Bougainville, there is plenty to see and photograph.
Join this semi-private tour with 4 seats per vehicle Land Rover 4x4 and experience it yourself!
Located on the Northern coast of East Falkland, Cape Bougainville boasts a large Rock hopper Penguin and King Cormorant colonies. These 2 species share breeding rookeries nesting together on the scenic cliff tops.

Traveling time from the Capital town of Stanley is around 2 hours, with 1.5 hours of this being on the gravel roads that link the farming communities around the Islands. The off-road section is an easy drive, relatively smooth track and suitable for most individuals to travel over.

Cape Bougainville is also often home to a number of Sea Lions, usually young males that have been forced to move out of the breeding rookeries further West at Cape Dolphin. These seals can regularly be seen sleeping on the cliff tops around the parking area, and among the Tussock Grass.

As well as the Rockhopper Penguins, Macaroni Penguins are frequent visitors, although in very small numbers, usually up to a maximum of 6 individuals during the breeding season.
Inter-breeding between the Rockhopper and Macaroni penguins isn't unusual, and mixed pairs can sometimes be seen here raising a chick.

This is also an excellent location to watch the Rockhoppers hopping up the rock face from the sea after being unceremoniously dumped onto the rocks by the breaking waves.

For the keen photographers capturing a cormorant coming in to land in the middle of a busy rookery, or the characterful Rockhoppers going about their business, this tour is a must.

Please note that there are no restroom facilities at this location.
$357.34

query_builder 6 hours
flight_takeoff Stanley
flight_land East Falkland

---

Book

---

Check Dates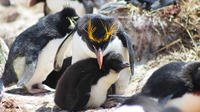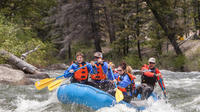 close
Take a trip on the wild side with this guided, half-day rafting adventure just outside of Sun Valley in Stanley, Idaho. This adventure is a half-day trip on class II and III rapids. Choose to raft in a boat or a kayak, either way a thrilling adventure is guaranteed. High-level guides and gear take any vacation to great new heights. It's a perfect addition to any family vacation. No experience is necessary and this is fun for all ages!
This river rafting adventure is action-packed and ready to roll in either a boat or a kayak--it's your choice. Breathtaking in all the best ways, this exciting trip is our most popular, especially for families. Taking off north of Sun Valley at the Elk Creek launch site, ride into the famed rapid "Piece of Cake" that starts off a series of lively class II and III rapids. Between waves, you'll swap stories with our great guides, learn about local wildlife, and take in some astonishing scenery. Finish with a thrilling three-quarter-mile stretch of class III rapids nicknamed "The Narrows," and a stop at the clear, deep swimming hole of Jump Rock. Choose this trip in either paddle rafts or kayaks.

Rock the waves on the Salmon River in the Sawtooth Wilderness, right outside of Sun Valley in Stanley, Idaho. For a pure, elevated experience that's a real laugh riot, nothing beats a day on the river. It's the ultimate summer getaway, literally a breath of fresh air with a splash of adventure.

The guides have been running this stretch of the river since 1971, with a stellar safety (and smiles) record, their knowledge of (and love for) this spectacular place goes deep and wide. Soak it all in.
$101.14

query_builder 4 hours
flight_takeoff Stanley, Idaho
flight_land Idaho

---

Book

---

Check Dates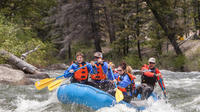 ---
(*) All prices are approximations due to currency fluctuations.