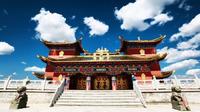 Shenyang City Historical Highlight Private Day Tour more_vert
*$94 AUD Book
close
Shenyang is the capital city of Liaoning Province as well as the largest city in Northeast China. Not only a political, economic, and cultural center of Liaoning Province, but is is also an important industrial base and a famous historical city. With Hun River flowing south nurturing the city, Shenyang became one of the birthplaces of Chinese civilization with human presence dating back to the Stone Age. Today, Shenyang offers more than its heavy industries. On this tour, you will visit must-see attractions including Shenyang Imperial Palace, Central street, and Marshal Zhang's Residence.
At 9am, your private guide will greet you at your hotel lobby to embark on a day of exploration in Shenyang by public transportation or private car. First, you will tour the most famous attraction, Shenyang Imperial Palace, which was built in 1625 and the most ancient imperial architectural complex of Qing Dynasty besides Forbidden City of Beijing. According to the layout and time it was built, Shenyang Imperial Palace can be divided into three parts: east, center and west, where you will explore and discover its history and beauty.

Next, you will continue to the bustling local shopping street, Central Street, which is the oldest and still is one of the busiest shopping streets in Shenyang to appreciate the contract of the old and new faces of the city. Later,break for lunch at a restaurant nearby. Lunch is not included but you will have a number of options to choose from, Northeastern Chinese to local Manchurian cuisine.

Then, visit another famous local attraction, Marshal Zhang's Residence. Marshal Zhang Senior and Junior were the most powerful people in China during 1920s-1930s. And they, especially Marshal Zhang Junior, were considered great patriotic heroes. Because Shenyang was their hometown and where they built their power, they were respected and loved for their bravery and brilliance. At the end of the tour, you will be transferred back to your Shenyang hotel where the service ends.

Note: You may choose public transportation or private car service for this tour. If you choose to take public transportation, your will also be responsible for your private guide's transportation.
$94.39

query_builder 7 hours
flight_takeoff Shenyang
flight_land Liaoning Province

---

Book

---

Check Dates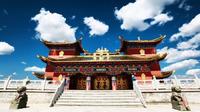 ---
(*) All prices are approximations due to currency fluctuations.