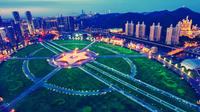 close
Join this private day tour of the quaint city of Dalian. Your English-speaking tour guide and chauffeur will take you to various landmarks in the area while providing historical commentary. Be sure to take pictures of places such as the Binhai coastal road and Zhong Shan Square as you bask in the charming atmosphere of the city.
Your driver and tour guide will meet you in your hotel lobby at your agreed upon time. The first stop of the tour will be at the Dalian Modern History Museum, which is located to the side of Xin Hai park. The exhibits are beautifully designed to reflect historical and modern pieces of the city of Dalian. Your private guide will escort you through the museum, providing historical facts along the way. Next, visit Xin Hai Square, which is ranked as the biggest city square in Asia. At your request, your guide can lead you on a stroll through the park or the chauffeur can simply drive through as you relax in the back.

Break for lunch at a local restaurant suggested by your guide. Once you are finished, visit the most historical part of Dalian,
Zhong Shan Square, which was built in 1898 by the Russians as Nikolayevskaya square and was later renamed as Ohiroba by the Japanese. At the time, the square was the core part of the Dalian city, and today, it still remains as the business center of Dalian. Your guide will take the lead as you observe the difference between Russo-Japan renaissance architectures and modern developments.
Last but not least,
pay a visit to
Binhai coastal road, which is known as the most beautiful coastal road in the Northern East part of China. It is also a perfect method of getting away from the city to enjoy peace and quiet. Binhai Road is also called "Valentine's Road" in Dalian due to the many couples who take their wedding photos here. At the end of the tour, your guide and driver will bring you back to your accommodation.
$148.33

query_builder 6 hours
flight_takeoff Dalian
flight_land Liaoning

---

Book

---

Check Dates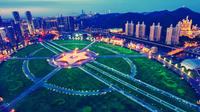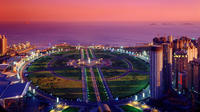 close
Take this tour to visit highlights of Dalian City including Xinghai Square - Asia's largest city square, romantic Binhai Road (also known as Seaside Road), Beida Bridge, Tiger Sculpture Square - the city symbol, and Fisherman's Wharf. You will also experience the old vibes of Dalian in Russian and Japanese Style Streets as well as Dalian East Harbor Area, built on the foundation of old Port of Dalian and now a place for conventions, shopping, leisure, and recreations.
At 9am, your guide will greet you at your hotel lobby to set off for a day of exploration in beautiful Dalian by public transportation or private car. First, you will visit Asia's largest city square, Xinghai Square, where the Exhibition Center is located along with other symbolic buildings of the city. You may opt for a bicycle ride here at your own cost around RMB$50 to RMB$80 per hour. Then, continue to visit romantic Binhai Road where you will see beautiful scenery along the shoreline. This road has ocean on one side and mountain on the other, a perfect place to make romantic propositions which earns itself the nickname of "Lover's Road." Next, walk on Beida Bridge from one end to another. Beida Bridge is a part of the seaside road, and rumor has it that when a couple walk on this bridge hand in hand, they will be together forever! From there, you could see the symbol of Dalian, Tiger Sculpture Square, nearby. Next, visit Fisherman's Wharf to explore this seaside community that was built in the the style of early 20th century American east coast village with a row of pleasant coffee and wine shops. It also features a perfect replica of the 1853 German Bremen Port Lighthouse built with bricks from razed local villages, a great backdrop for photos.
Take a lunch break after 12:30pm. Lunch is not included in the package; however, your guide will recommend a number of options for you to choose from Northeast Chinese dumplings to local seafood. After lunch, you will head to Japanese Style Street which is is 0.6 miles (1,000 meters) long where there are restaurants, cafes, bookstores, sculptures, florists, villas, and many nice and beautiful fountains all constructed in Japanese Style. The street is a nice place to walk and discover Japanese culture through its architectures. Then, visit Russian Style Street which is full of European style architectures. You will find Russian restaurants, nightclubs, pubs, arts and crafts as well as souvenir shops...etc. There are also noteworthy wax statues of administrative officials from the 1920s and 1930s. Later, you will go to Dalian East Harbor Area built on the foundation of old Port of Dalian but a place for conventions, shopping, leisure and recreations today. In addition, Warehouse 15 is a miniature size of Beijing's 798 Art District with unique characteristic restaurants and coffee houses. Also in the convention center is Poly Theater. Its unique structure makes it one of the city's landmarks. Your tour will finish around 4pm and your guide will transfer you back to your centrally located Dalian hotel.
You may choose public transportation or private car service. If you choose to take public transportation for this tour, you are recommended to take a taxi to tour Binhai Road. Your will also be responsible for your private guide's transportation.
$55.29

query_builder 7 hours
flight_takeoff Dalian
flight_land Liaoning

---

Book

---

Check Dates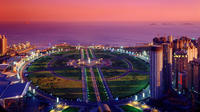 ---
(*) All prices are approximations due to currency fluctuations.